Contact Us
My Place Hotel-Altoona/Des Moines, IA
2315 Adventureland Drive
Altoona, IA 50009
To view or modify an existing reservation within the cancellation time frame, please modify here.
Altoona/Des Moines, IA
Make My Place Your Place®
The best choice for convenience, comfort and value, My Place Hotels are ideal for both short-term and long-term travelers! Whether you're traveling for business or pleasure our Altoona, IA hotel offers an array of modern amenities to ensure your comfort. We are conveniently located right across the street from Prairie Meadow Casino, where they have live music bands on weekends, and Adventureland Amusement Park.
All rooms feature pillow top mattresses, microfiber bedding, and a variety of soft and firm pillows. For added convenience, every room provides a My Kitchen, which includes a full-sized refrigerator, a two burner cooktop, coffee maker and a microwave. Also available for our guests are onsite laundry facilities, making it easy to make My Place your home away from home! Remember to grab a snack from the My Store, stocked with a variety of food and beverage options and other items to enhance your stay.
Ask about our Breakfast in Bed options!
Book online, or by calling (515) 348-7161.
Rooms & Amenities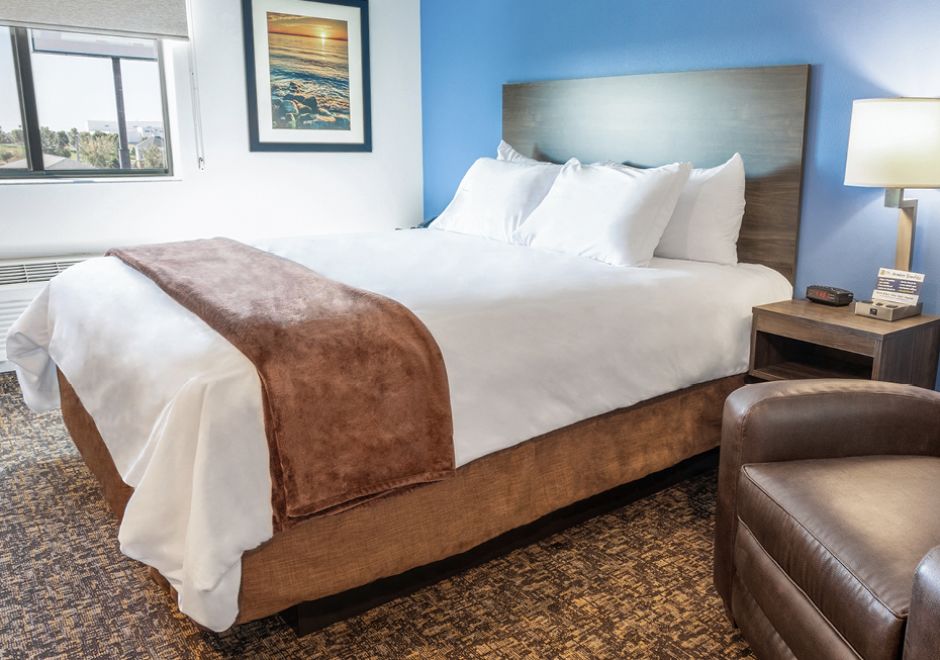 1 Queen Bed With Recliner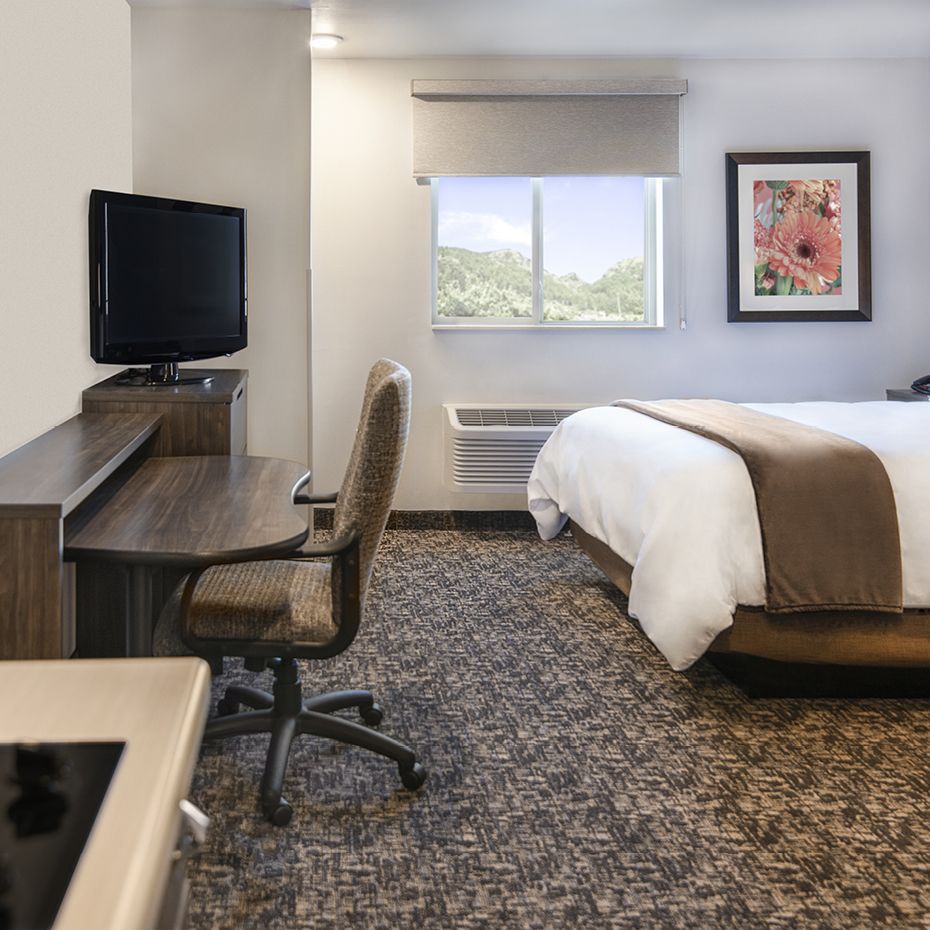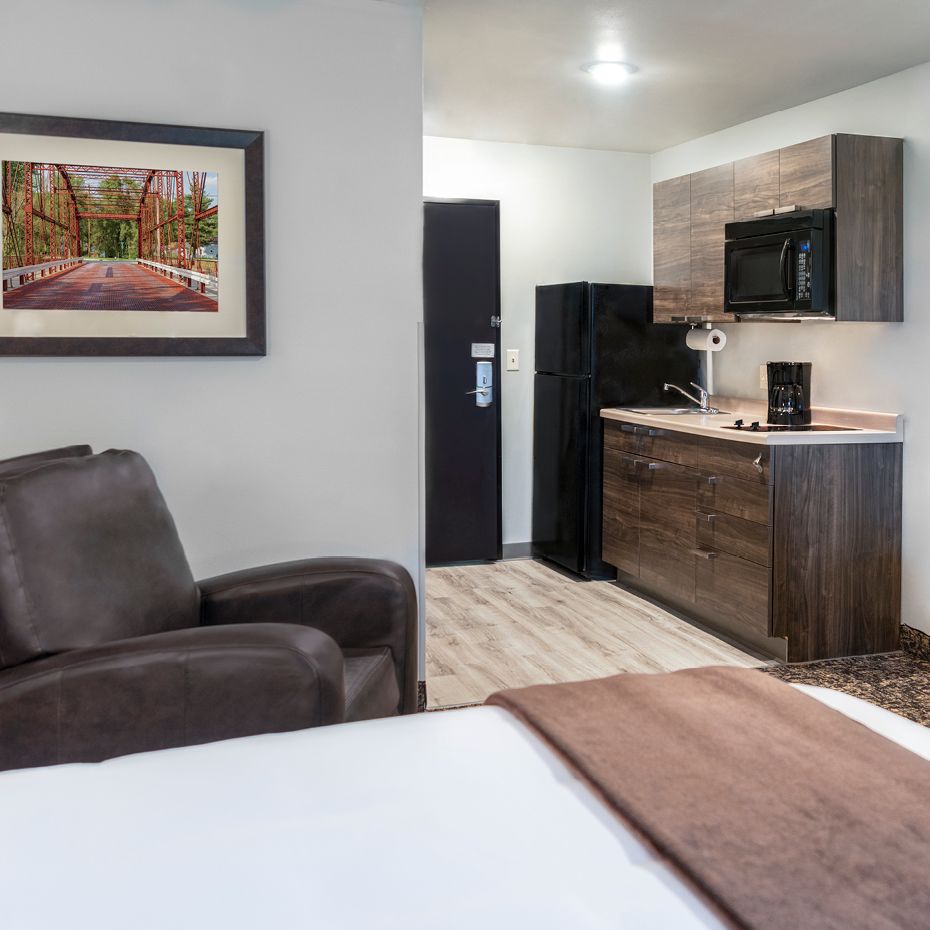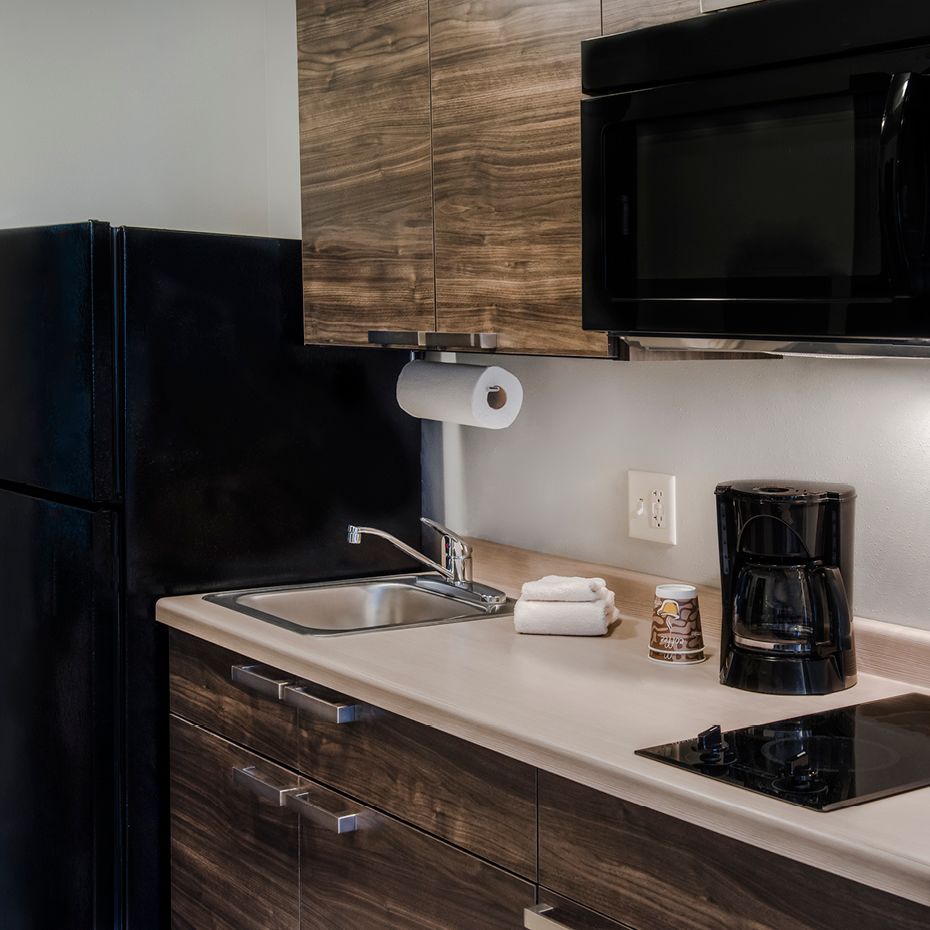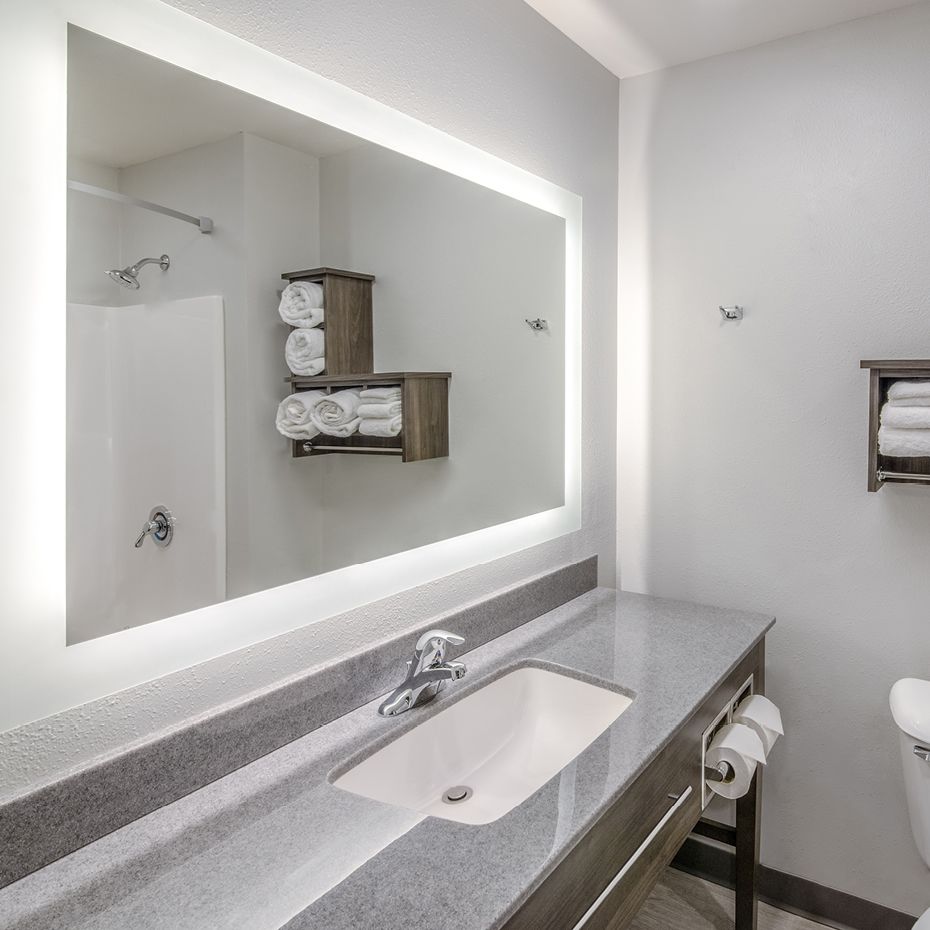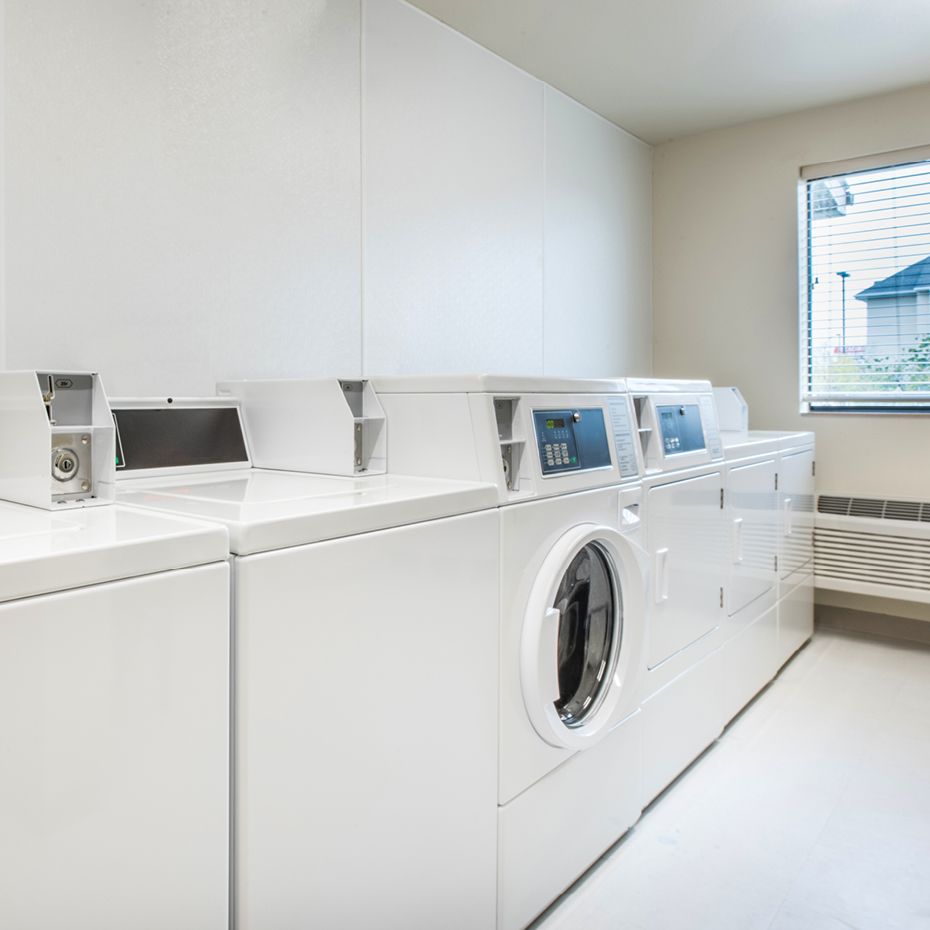 Place Name
Address
Phone
Distance
Show on Map

Bigfoot Bacon and Brew

3221 Adventureland Dr, Altoona, IA 50009
(515) 957-9956
0.44

Burgers, breakfast and brunch, sandwiches and a full bar.

Jethro's 'n Jakes Smokehouse Steaks

2601 Adventureland Dr, Altoona, IA 50009
(515) 957-9727
0.29

Steak-focused outpost of the regional mini-chain serving smoked meats in a pub-like atmosphere. American Barbeque, full bar and weekend-brunch.

Bianchi Boys Pizza & Pasta

2437 Adventureland Dr Suite B, Altoona, IA 50009
(515) 957-0807
0.15

Relaxed, family-friendly pizza parlor serving up house-made pasta & frozen custard in a roomy space with Sunday specials.

Perkins Restaurant & Bakery

2621 Adventureland Dr, Altoona, IA 50009
(515) 957-9900
0.34

Kid-friendly chain known for baked goods, breakfasts & other American standards and wheelchair accessible.

Uncle Buck's Fish Bowl and Grill

1000 Bass Pro Dr NW, Altoona, IA 50009
(515) 957-5400
1.38

Underwater-themed destination featuring a menu of American eats, a tropical-themed bar & bowling.

Cool Basil

550 36th Ave SW, Altoona, IA 50009
(515) 967-4611
1.52

Chinese, Sushi, Asian, Thai and Japanese - wheelchair accessible

Johnny's Italian Steakhouse Altoona

550 Bass Pro Dr NW, Altoona, IA 50009
(515) 957-9600
1.3

Steaks, Italian dishes & cocktails served in upscale, supper club-like environs with a sleek bar.

Sam's Sports Bar & Grill

3160 8th St SW, Altoona, IA 50009
(515) 957-9790
1.54

Easy going hangout with a pool table & outdoor seats for familiar pub grub, draft beer & cocktails. Greenbay Packer Heaven.

Brick Street Market & Cafe, Bondurant, IA

114 Brick St SE, Bondurant, IA 50035
(515) 967-2220
3.45

American Cafe

The Big Steer Restaurant & Lounge

1715 Adventureland Dr, Altoona, IA 50009
(515) 967-6933
0.37

Bustling supper-club-style steakhouse & bar serving corn-fed prime rib & seafood with weekly specials, Sunday brunch and Iowa corn fed beef.
Place Name
Address
Phone
Distance
Show on Map

Cinemark Altoona and XD

2227 Adventureland Dr, Altoona, IA 50009
(515) 967-2236
0.03

Chain of movie theaters, some with multiple screens, stadium seats & self-service ticketing kiosks.

Prairie Meadows Racing and Casino

1 Prairie Meadows Dr, Altoona, IA 50009
(515) 967-1000
0.3

Racing, dining and a casino

Adventureland

3200 Adventureland Dr, Altoona, IA 50009
(515) 266-2121
0.42

Adventureland is a family-owned amusement park in Altoona, Iowa. It is marketed as featuring over 100 rides, shows and attractions.

Bass Pro Shops

1000 Bass Pro Dr NW, Altoona, IA 50009
(515) 957-5500
1.32

Chain known for its large, wilderness-themed stores & wide array of hunting, fishing & outdoor gear.

Terrace Hills Golf Course

8700 NE 46th Ave, Altoona, IA 50009
(515) 967-2932
4.1

Terrace Hills Golf Courseopened in 1964 and continues today as one of the Des Moines area oldest family owned and operated golf facility. 18 scenic holes awaits you for your enjoyment, not too hard, not to easy, just 18 holes of fun golf.

Altoona Area Historical Museum

104 2nd St SE, Altoona, IA 50009
(515) 967-4815
1.85

Discover Altoona's history!

Iowa Speedway

3333 Rusty Wallace Dr, Newton, IA 50208
(866) 787-8946
28.86

Iowa Speedway is a 7/8-mile paved oval motor racing track in Newton, Iowa, United States, approximately 30 miles east of Des Moines.

Wells Fargo Arena

233 Center St, Des Moines, IA 50309
(515) 564-8000
8.99

Wells Fargo Arena is a 16,980-seat multi-purpose arena in Des Moines, Iowa, United States. Part of the Iowa Events Center, the arena opened on July 12, 2005, at a cost of $117 million.

Iowa Cubs at Principal Park

1 Line Dr, Des Moines, IA 50309
(515) 243-6111
9.16

Principal Park, formerly Sec Taylor Stadium, is a minor league baseball stadium in Des Moines, Iowa. It is the home field of the Pacific Coast League's Iowa Cubs.

Knoxville Raceway

Knoxville Raceway
(641) 842-5431
39.51

Knoxville Raceway is a semi-banked 1/2 mile dirt oval raceway located at the Marion County Fairgrounds in Knoxville, Iowa, United States.

Kosama Altoona

3160 8th St SW, Altoona, IA 50009
(515) 957-0199
1.54

Group fitness that targets endurance, strength and mobility---day passes.

Iowa State Fairgrounds

E University Ave & E 30th St, Des Moines, IA 50317
(515) 262-3111
6.06

Auto shows, livestock exhibits, flea markets, antique shows, concerts, trade shows and more.

Valle Drive-In

4074 Hwy F48 W, Newton, IA 50208
(641) 792-3558
21.97

Old-fashioned drive-in theater with double features, a concession stand & seasonal hours. Last drive-in theater in Iowa! Adults $8 and Children $5

Reiman Gardens

1407 S University Blvd, Ames, IA 50011
(515) 294-2710
31.51

Reiman Gardens is a 17- acre university-owned public garden and the largest public garden in the state, a conservatory and butterfly house, too. Adults $8 and children $5. Open 9-4:30pm Monday-Sunday