Contact Us
My Place Hotel-Bismarck, ND
2640 Centennial Road
Bismarck, ND 58503
To view or modify an existing reservation within the cancellation time frame, please modify here.
Bismarck, ND
Make My Place Your Place®
My Place Hotel-Bismarck, ND is perfect for both short-term and long-term travelers! Whether you're traveling for business or pleasure, our Bismarck, ND extended-stay hotel offers an array of modern amenities to ensure your comfort.
All rooms feature pillow top mattresses, microfiber bedding, and a variety of soft and firm pillows. For added convenience, every room provides a My Kitchen, which includes a full-sized refrigerator, a two burner cooktop, coffee maker and a microwave. Also available for our guests are onsite laundry facilities, making it easy to make My Place Hotel in Bismarck, ND your home away from home! Remember to grab a snack from the My Store, stocked with a variety of food and beverage options and other items to enhance your stay.
Ask about our Breakfast in Bed options!
Book online, or by calling (701) 751-5080.
Rooms & Amenities
1 Queen Bed With Recliner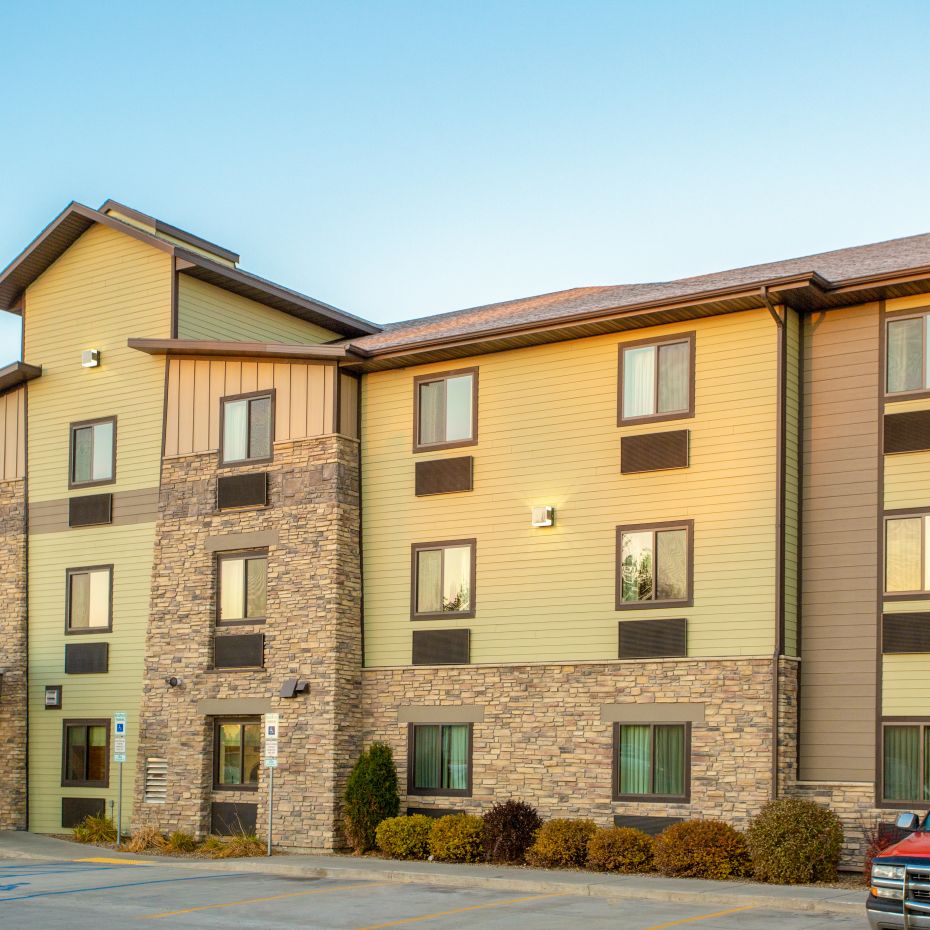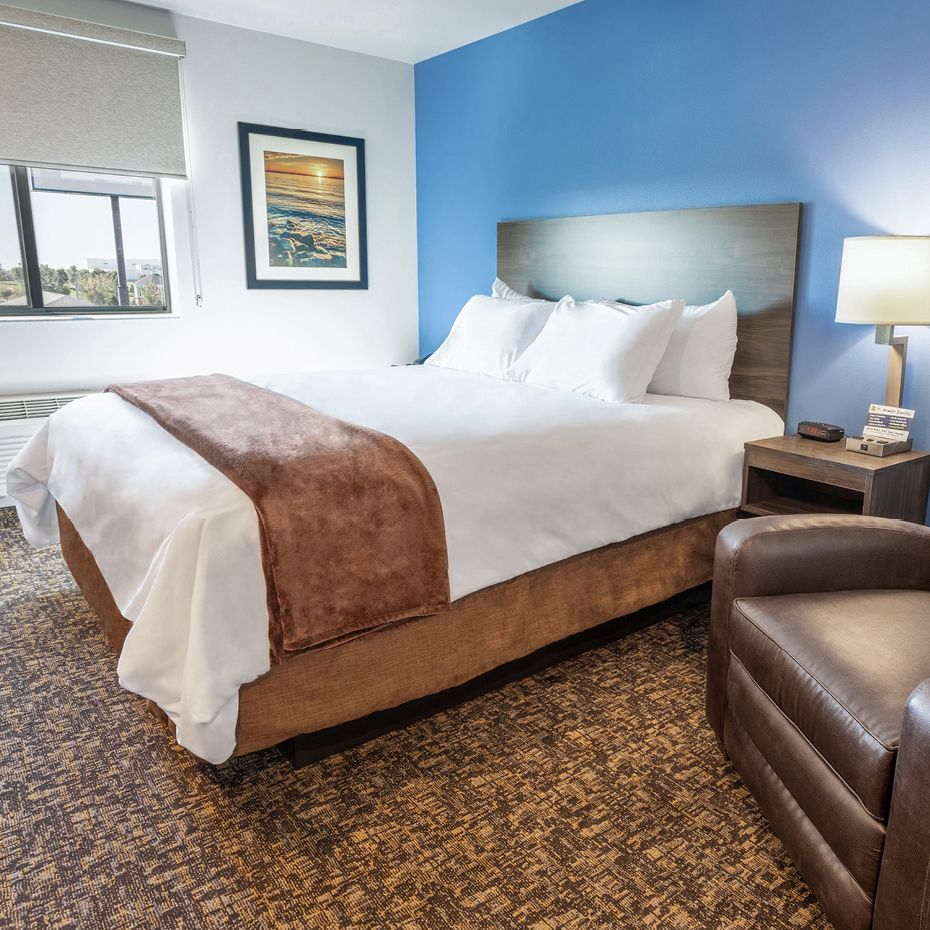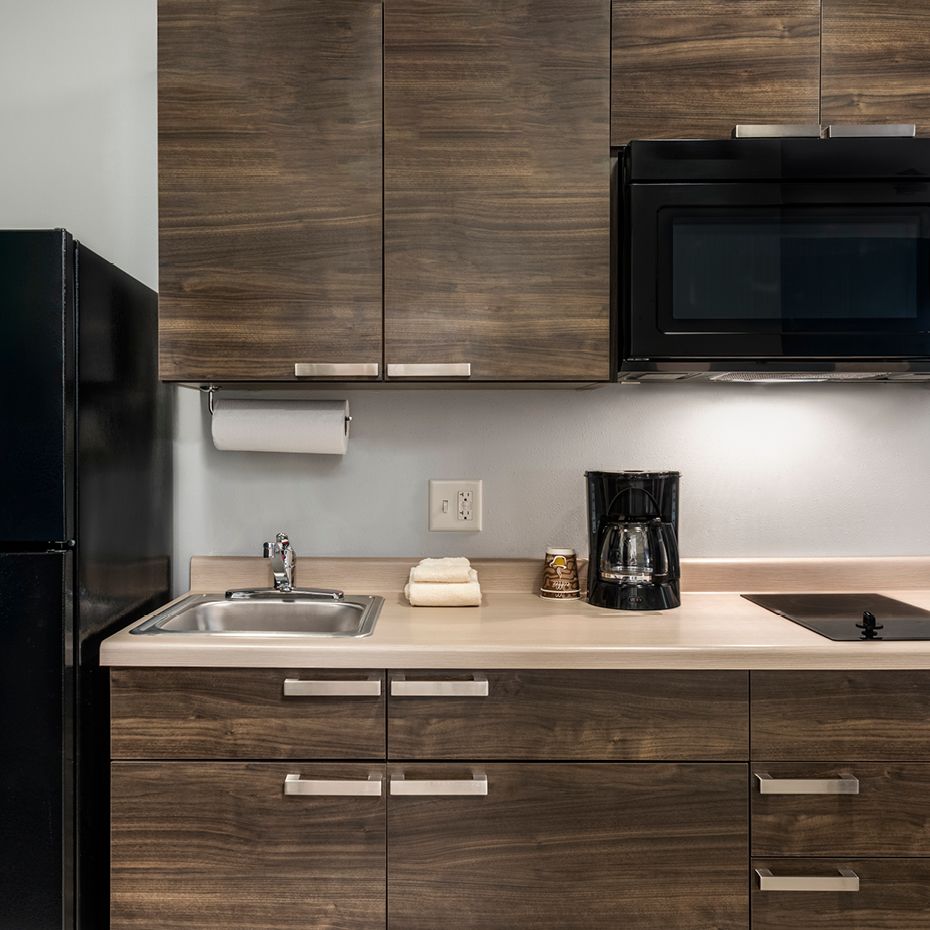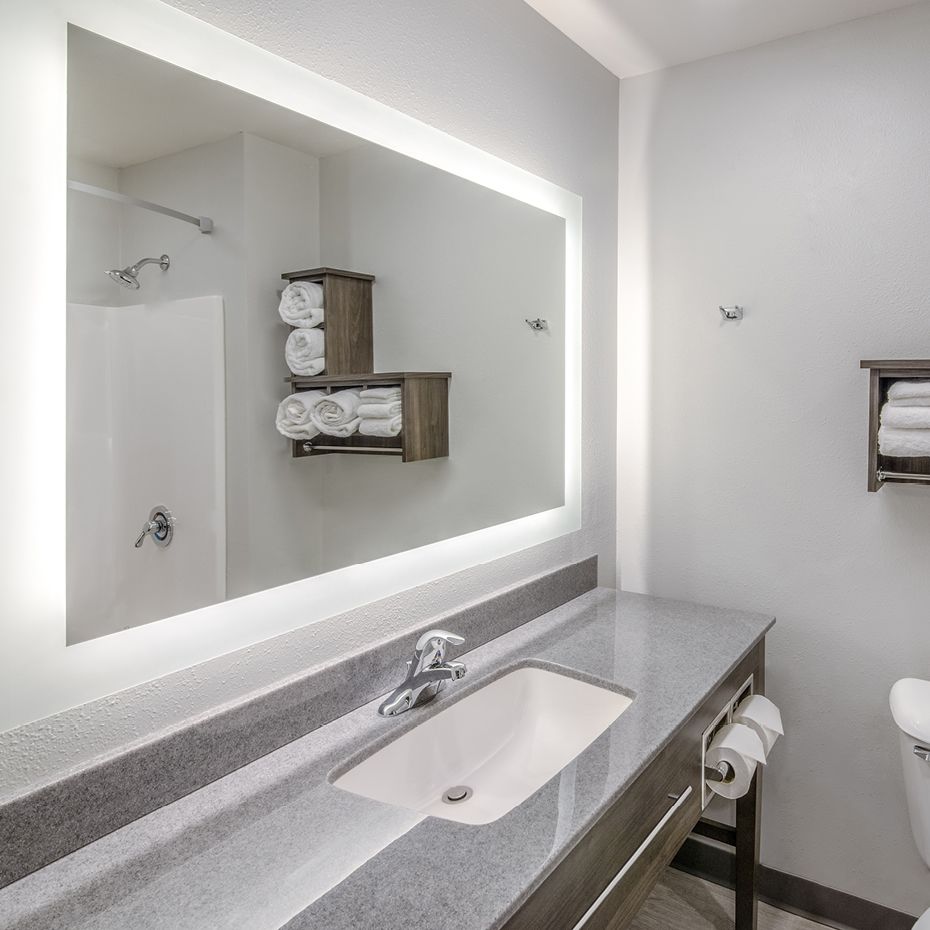 Place Name
Address
Phone
Distance
Show on Map

North Dakota Heritage Center

612 East Boulevard Avenue, Bismarck, ND
(701) 328-2666
3.6

The North Dakota Heritage Center & State Museum, located on the North Dakota State Capitol grounds in Bismarck, is the state of North Dakota's official history museum.

The Dakota Zoo

602 Riverside Park Rd, Box 711, Bismarck, ND
(701) 223-7543
4.22

The Dakota Zoo is a zoo in Bismarck, North Dakota located on the banks of the Missouri River, it is the third zoo built in North Dakota.

State Capitol Building

600 East Boulevard Avenue, Bismarck, ND
3.48

The North Dakota State Capitol is the house of government of the U.S. state of North Dakota.

Laughing Sun Brewing Co.

107 N 5th St,, Bismarck, ND
(701) 751-3881
4.53

Dining

Bismarck Civic Center

315 S 5th St, Bismarck, ND
(701) 222-6487
4.72

The Bismarck Event Center is a 10,100 seat multi-purpose facility located in Bismarck, North Dakota.

McDowell Dam Nature Park

1951 93rd Street Northeast, Bismarck, ND
6.76

McDowell Dam Recreation Area is a 271 acre park located five miles east of Bismarck on Old Highway 10 and one mile north.

Former Governor's Mansion

320 E. Ave. B, Bismarck, ND
(701) 328-2666
4.17

Restored 1884 Victorian home & carriage house, the residence of ND governors from 1893–1960.

Kirkwood Mall

706 Kirkwood Mall, Bismarck, ND
(701) 223-3500
5.19

Kirkwood Mall is an enclosed regional shopping mall in the city of Bismarck, North Dakota. At 850,000 square feet, Kirkwood Mall is the second largest mall in North Dakota, boasting over 90 shops.

Buckstop Junction

3805 E Bismarck Expy, Bismarck, ND
(701) 250-8575
2.31

Historic buildings dating from 1875 to 1935 moved to this site with history exhibits & information.

Superslide Amusement Park

Riverside Park Rd, Bismarck, ND
(701) 255-1107
5.79

Kid-oriented attraction with a giant slide, a Ferris wheel, mini-golf, go karts & concessions.
Place Name
Address
Phone
Distance
Show on Map

Blarney Stone Pub

408 East Main Avenue, Bismarck, ND
(701) 751-7512
4.61

Irish favorites join hearty American pub fare in this dark-wood & stone tavern with a fireplace.

Pirogue Grille

121 North 4th Street, Bismarck, ND
(701) 223-3770
4.54

Seasonal American cuisine, using local bison, other meats & produce, in a warm, brick-walled space.

JL Beers

217 N 3rd St, Bismarck, ND
(701) 751-4855
4.5

Relaxed hangout featuring burgers with creative topping combos & an assortment of craft beers.

Fireflour Pizza

111 N 5th St., Bismarck, ND
(701) 323-9000
4.52

Minimalist, contemporary pizzeria turning out Neapolitan-style pies with an attached coffee shop.

Lucky Duck's Deli and Catering

307 North 3rd Street, Bismarck, ND
(701) 751-3989
4.45

Creative sandwiches, tacos, salads & soups, plus beer, offered in hip, casual digs.

Peacock Alley

422 E Main Ave, Bismarck, ND
(701) 221-2333
4.54

Established venue in the Patterson hotel features prime meats amid antiques & stained glass windows.

Little Cottage Cafe

2513 East Main Avenue, Bismarck, ND
(701) 223-4949
3.08

Cozy circa-1965 diner with counter seating, pie & an American menu with some German items.

Kobe's Japanese Steakhouse and Sushi Bar

915 W Interstate Avenue, Bismarck, ND
(701) 751-3663
4.27

Flaming teppanyaki grills & sushi rolls with exotic ingredients in a lively setting.

Oahu Hawaiian and BBQ and Sushi Bar

2626 State Street, Bismarck, ND
(701) 751-6248
2.4

Vibrant restaurant & bar serving both Hawaiian & Japanese cuisine, including sushi.

Texas Roadhouse

1505 Burnt Boat Dr, Bismarck, ND
(701) 250-6746
4.54

Dining
Frequently Asked Questions